2014: Westboro Baptist Church
When a church group publicly blames deaths and catastrophes on America's sexual immorality, the country and courts debate First Amendment limits for offensive speech.
Get even more great free content!
This content contains copyrighted material that requires a free NewseumED account.
Registration is fast, easy, and comes with 100% free access to our vast collection of videos, artifacts, interactive content, and more.
Sign Up
?
NewseumED is provided as a free educational resource and contains copyrighted material. Registration is required for full access. Signing up is simple and free.
With a free NewseumED account, you can:
Watch timely and informative videos
Access expertly crafted lesson plans
Download an array of classroom resources
and much more!
Duration
Less than 30 minutes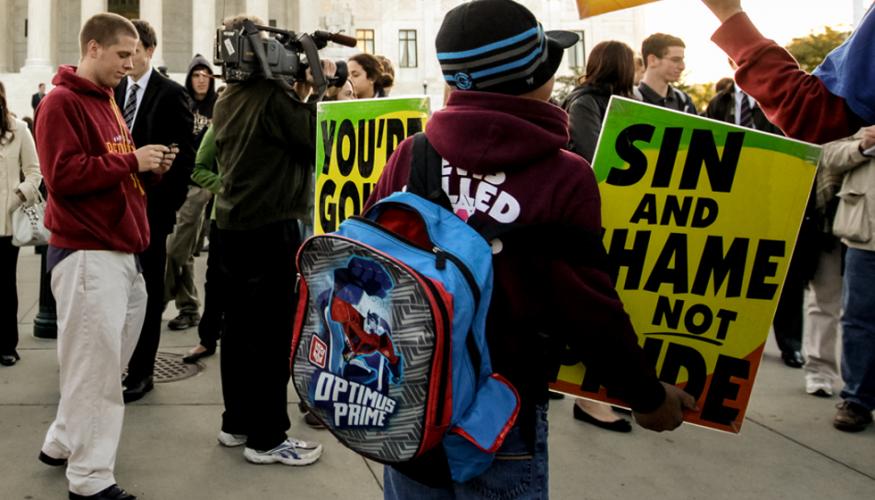 Looking Back: 9/11 Connections
Use the artifact viewer to explore the image below and discuss the following questions:
What happened/is happening in this image? What story does it tell?
How is this image connected to the events of Sept. 11, 2001?
How could you use this image to make an argument about the state of freedom in the U.S.? About national security?
What would you do if a fringe group planned to hold an offensive protest near your school campus?
You are a college administrator in a small city. You learn that a group of religious extremists who hold fringe views about many social issues are planning to come to your town to stage a protest near the school grounds. The group travels across the country holding protests at college campuses, military funerals, concerts and other events where they will attract publicity. At their protests, they hold signs with provocative phrases such as, "Thank God for dead soldiers" and "God hates you." Many of the signs use derogatory language. The protesters always gather in public spaces, where the First Amendment protects their actions.
You've been asked to help guide the campus response to the protest.
What do you do?
Encourage students to ignore the protest.

Whether they agree or disagree with the protesters, interacting with them will bring tension to your school community.

Encourage students who disagree to confront the protesters.

Although it may result in tension, students who disagree should feel supported if they want to engage with the protesters.

Help plan a peaceful counterprotest.

Help students who oppose the group's views organize and make signs to express their opinions without getting into any arguments with the protesters.

Attempt to limit the protest.

Have the school police block off the area where the protesters plan to gather.
As a college administrator, what type of environment would you try to create for your students?

What is the best way to respond when freedom of speech is used to express ideas that you do not agree with or find offensive?

Why might this group target college campuses?

What type of reaction is this group hoping to get? Should the group's expectations shape your response? If so, how?

Would your response be the same/different if you were a student at the college? Why?
Have students use the Analyzing Evidence and Making Your Argument handouts to collect and organize additional information about the case, then form an argument supported by evidence. Give the groups 30 minutes to prepare, or assign as homework. (Note: Students may wish to organize their sources and evidence using a spreadsheet, such as Google Sheets.)
Common Core State Standards: CCSS.ELA-LITERACY.CCRA.SL.3

Evaluate a speaker's point of view, reasoning, and use of evidence and rhetoric.

Common Core State Standards: CCSS.ELA-LITERACY.CCRA.SL.4

Present information such that listeners can follow the line of reasoning and the organization, development, and style are appropriate to task, purpose, and audience.
NCSS C3 Framework: D4.1.6-8 and D4.1.9-12

6 - 8: Construct arguments using claims and evidence from multiple sources, while acknowledging the strengths and limitations of the arguments. 9 - 12: Construct arguments using precise and knowledgeable claims, with evidence from multiple sources, while acknowledging counterclaims and evidentiary weaknesses.
National Center for History in the Schools: NCHS.US History.Era 10

Standard 1: Recent developments in foreign policy and domestic politics Standard 2: Economic, social, and cultural developments in contemporary United States
Center for Civic Education: CCE.V

A. What is citizenship? B. What are the rights of citizens? C. What are the responsibilities of citizens? D. What civic dispositions or traits of private and public character are important to the preservation and improvement of American constitutional democracy? E. How can citizens take part in civic life?