1954: Communism Fears Challenge Freedom of Assembly
Should the government publicly scrutinize an individual's political speech and actions, if the person belongs to an organization that may have ties to foreign enemies?
Get even more great free content!
This content contains copyrighted material that requires a free NewseumED account.
Registration is fast, easy, and comes with 100% free access to our vast collection of videos, artifacts, interactive content, and more.
Sign Up
?
NewseumED is provided as a free educational resource and contains copyrighted material. Registration is required for full access. Signing up is simple and free.
With a free NewseumED account, you can:
Watch timely and informative videos
Access expertly crafted lesson plans
Download an array of classroom resources
and much more!
Topic(s)
Cold War
Constitution
National Security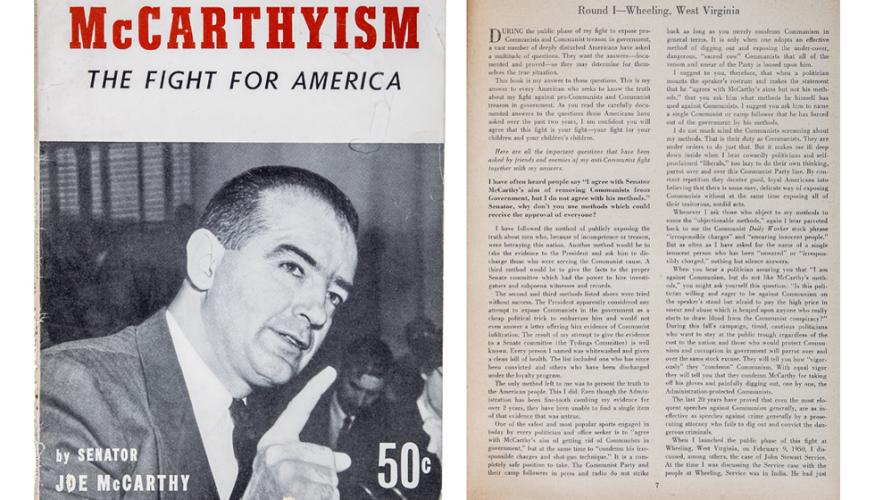 Pass out and read the Communism Fears case study scenario. Check for comprehension and ask students to identify the First Amendment freedom(s) at issue in this case.
Break your class into small groups and assign each group one of the people/perspectives. Hand out copies of the Organizing Evidence and Present Your Position worksheets. Give groups 30 minutes to look at the primary sources online and answer the worksheet questions.
Have each group present their position and arguments. Keep the gallery of case study resources on NewseumED.org open so students can refer to them as they explain their reasoning.
Historical case study handout, one per student (download)
Organizing Evidence and Present Your Position worksheets, one of each per group (download)
Case study primary sources (below)
NewseumED Communism and Free Speech Related Resources Pinterest Board (optional)
Should the government publicly scrutinize an individual's political speech and actions, if the person belongs to an organization that may have ties to foreign enemies?
The Cold War is on as the Soviet Union and the United States jockey for global dominance. The Soviet Union is taking control of countries in Eastern Europe and influencing countries close to the U.S., such as Cuba. Both nations speak of the other as the enemy and are building up their weapons supplies. By 1950, both nations have successfully detonated an atomic bomb, and fear of nuclear war sets in.
Because the Soviet Union is a communist state, members of the Communist Party of America fall under suspicion of disloyalty. Sen. Joseph McCarthy, R-Wis., gives a dramatic speech claiming he has the names of 205 members of the State Department who are communist sympathizers. He promises to work to weed these people out of the government.
As chairman of the Committee on Government Operations, an investigative subcommittee, McCarthy begins holding hearings to find and eliminate any government employee who supports communism. The individuals he targets face public scorn and ruined careers, regardless of the truth of the accusations.
Televised nightly, the hearings force a First Amendment debate.
Take the role of a historical figure below and find evidence to argue your case.
Would concerns for public safety ever justify limiting freedom of assembly? If so, what conditions need to be in place? If not, why not?
Would public scrutiny discourage people from joining an organization?
How is public scrutiny the same/different from explicitly banning an organization?
Would the congressional hearings be acceptable if they were held privately?
Common Core State Standards: CCSS.ELA-LITERACY.CCRA.SL.1

Prepare for and participate effectively in a range of conversations and collaborations with diverse partners, building on others' ideas and expressing their own clearly and persuasively.
NCSS C3 Framework: D4.1.6-8 and D4.1.9-12

6 - 8: Construct arguments using claims and evidence from multiple sources, while acknowledging the strengths and limitations of the arguments. 9 - 12: Construct arguments using precise and knowledgeable claims, with evidence from multiple sources, while acknowledging counterclaims and evidentiary weaknesses.
National Center for History in the Schools: NCHS.US History.Era 9

Standard 1: The economic boom and social transformation of postwar United States Standard 2: How the Cold War and conflicts in Korea and Vietnam influenced domestic and international politics Standard 3: Domestic policies after World War II Standard 4: The struggle for racial and gender equality and for the extension of civil liberties
Center for Civic Education: CCE.II

A. What is the American idea of constitutional government? B. What are the distinctive characteristics of American society? C. What is American political culture? D. What values and principles are basic to American constitutional democracy?