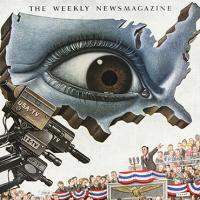 Classes & Training
This session is for
Students
On the Campaign Trail: The Battle for Votes
Students learn the persuasion techniques used by candidates when running for office, deepening their ability to analyze a variety of media produced by campaigns and to help separate fact from fiction.
What you'll learn
Candidates know that it's not just what you say, but how you say it. In every election season, the candidates and supporters compete to shape viewers' opinions and garner their votes. Examine historical and contemporary campaign ads, learn how to navigate conflicting messages and leave empowered to separate fact from fiction.
Day(s) offered
Monday-Friday
Time(s) offered
9 a.m.-4 p.m. ET
Minimum enrollment
10 participants
Enrollment type
Registration required
Virtual classes must be requested at least two weeks in advance. To request a free virtual class, please complete the request form. All reservations are tentative pending confirmation of hardware and software capabilities. Please call the Education Department at 202/292-6650 for more information.
Please notify us at least one week in advance if you must cancel your reservation.
Common Core State Standards: CCSS.ELA-LITERACY.CCRA.SL.2

Integrate and evaluate information presented in diverse media and formats, including visually, quantitatively, and orally.

Common Core State Standards: CCSS.ELA-LITERACY.CCRA.SL.3

Evaluate a speaker's point of view, reasoning, and use of evidence and rhetoric.
ISTE: 3b. Knowledge Constructor

Students evaluate the accuracy, perspective, credibility and relevance of information, media, data or other resources.
Quick View
Share
Contains Copyrighted Material (requires
an account
)